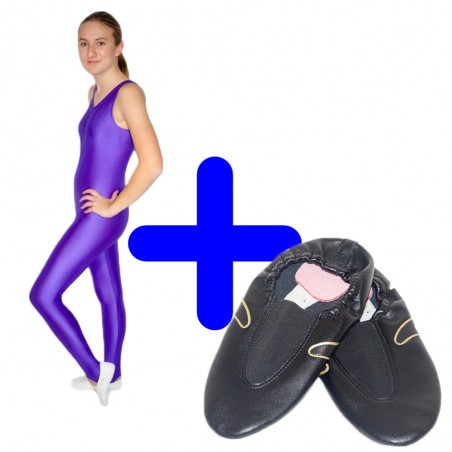  
Start Package Plus
VAT included
Delivery: 1 day to 8 weeks
start package with both overall and shoes for the beginners and experienced vaulters.
the shoes are made of leather, with a good fit around the foot.
They allow complete freedom of movement, and are the most flexible shoes on the market. There is a gel-pad in the heel, and split rubber soles.
Choose between black and white shoes.
The overall are plain and made in black or purple lycra, with a stirrup foot.
Feel free to contact us for help to choose what fit you best.
Unfortunately is it not possible for us to show which combinations of sizes and colours of the different leggings and shoes we have in stock, so we have to refer to the individual products own sites. Or feel free to contact us, and we will find the combinations we have on stock right now.
Do you have a question?
Contact us here

Denmark
Free shipping for purchases over 70 €

North and west EU
Free shipping for purchases over 140 €

Norway/Rest of Europe
Free shipping for purchases over 280 €
Does not apply to barrels and handles