The company
Lindqvist Voltige is a one-man business owned by Thomas Lindqvist, and is runned next to a full-time engineering job. The main part of the sale is through this website to customers mainly located in The Nordic countries, but also through a small stand at major competitions in and around Denmark.
The warehouse is located in Høje Taastrup, where it is possible to visit after prior agreement, and try sizes before you buy.
The Team Behind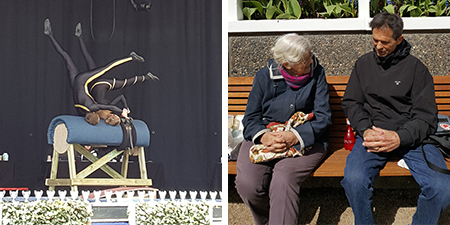 Behind Lindqvist Voltige is Thomas Lindqvist, that have many years of experience with vaulting in Denmark, and is ready to guide you about anything within equestrian vaulting.
Behind the barrel workshop is Bjarne and Ingrid Hansen that with many years of experience with carpenter and sewing work, is our guarantee for a high quality in our own products.
Barrels and Handels
In the beginning the barrel production took place at either the porch or the basement of the university, but is now moved to our own barrel factory on Lolland, Denmark. The design is based on the original from 2009, but have continuously been optimised to make the barrels as strong, stable and lightweight as possible. The barrels is stuffed with custom-made foam from a local factory on Lolland, and is shipped to the customers with local carriers.
The production of handels startet out with series of just one piece, that were bend, painted and sewn by hand. Today the series is larger, and all metal work is done by robots to ensure a uniform quality.